Crimson Trace LG-401 P14 Laser Guard Pro Custom Front Activation Chainmail III Lasergrip are intimidating in both design and function. The LG-401 P14 from Crimson Trace features a Chainmail III pattern which is incredibly durable and impressive looking. Any shooting enthusiast on the market for a 1911 laser grip for Government and Commander sizes should consider the Crimson Trace Pro-Custom Chainmail III Pattern Lasergrips. The Crimson Trace LG401 P14 fits 1911 and 1991A1 full-size singe stack frames and is incredibly durable thanks to hard polymer construction, and delivers a reliable and powerful laser sight thanks to the Crimson Trace lasergrip level of quality.
---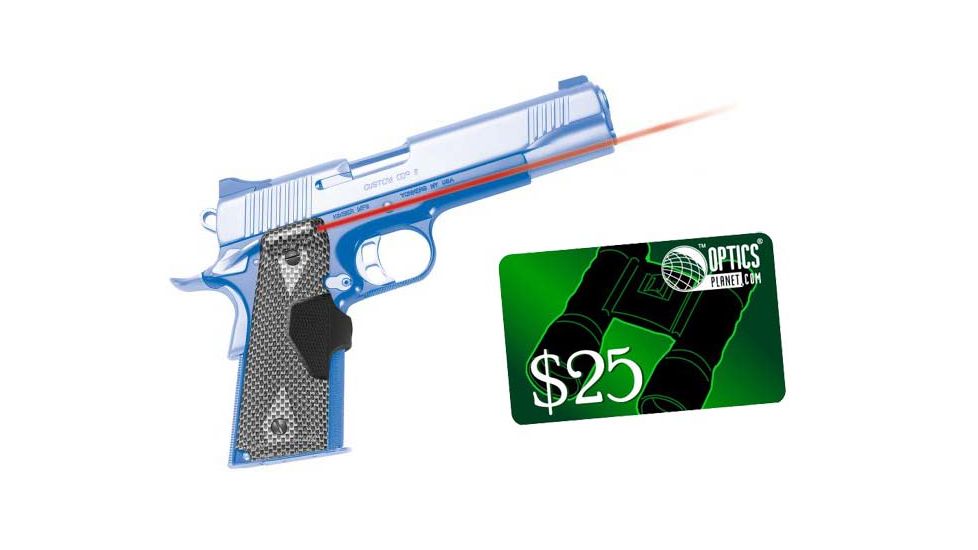 Crimson Trace Chainmail III Lasergrip 1911 Government Commander
RATING
91.25 /100
Design

Excellent

Performance

Excellent

Value for money

Excellent

Feature

Excellent
Specifications for Crimson Trace Pro Custom Lasergrips LG401P14:
| | |
| --- | --- |
| Fits Models: | 1911 and 1991A1 full-size single-stack frames, including |
| Activation: | Instinctive Activation; Front |
| Material: | Hard Polymer w/ Chainmail III Pattern, Rubber Front Activation Switch |
| User Adjustable: | Both Windage and Elevation |
| Warranty: | 3 Years Complete |
| Master On/Off Switch: | Yes |
| Beam Intensity: | 5mw peak, 633nm, class IIIa laser. Maximum output that federal law and technology allow. |
| Dot Size: | Approximately 0.5" diameter at 50 feet. |
| Power Source: | Two #2032 lithium batteries (included); over four hours of on-time use and a five year shelf life |
| Fit Details: | Fits most 1911 models with grip screws measuring 3-1/16" apart. |
Features of Crimson Trace LG 401 P14 Chainmail 3 Front Activation Laser Grip:
Chainmail III pattern
Rubber front activation switch allows for a normal shooting grip when turning the laser sight on
Fits 1911 and 1991A1 full-size single-stack frames, including: Auto-Ordnance, Les Baer, Colt, Kimber, Olympic Arms, Para-Ordnance, Sig Sauer.* Ambidextrous-safety models require shortened safeties. Kimber 1911 owners with ambi-safety must see a gunsmith.
---
---